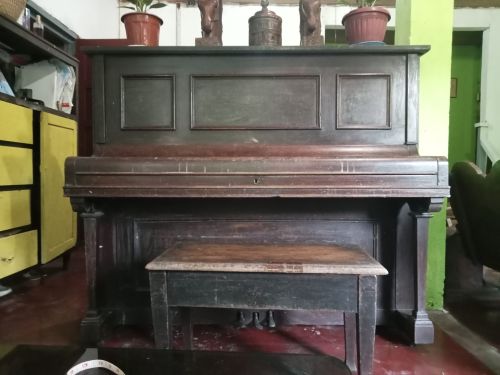 THE ROBINSON PIANO OF NUVAL FAMILY
The old Robinson Piano was bought in 1910 by the Nuval Family in Cabua-an. It was transported from Germany to Manila through plane and from Manila to La Union via train.

During World War II, Japanese soldiers flock at Nuval Residence to ask Maria Nuval to entertain and play the piano for them. Maria saw the same as an opportunity to distract Japanese soldiers from harming her fellow Filipinos in the area.
Because of the entertainment it brought to them, Japanese soldiers protected the house of Maria during the war. After the World War II, Maria used the Robinson piano to teach children who want to play the piano.
To date, the old Robinson Piano of the Nuval family is no longer functional but its integrity and appearance remain well preserved. It is displayed at the living room of their house.
The piano has played a part in the colorful history of Balaoan through the music it shared. In a sense, it created a positive bond between the Filipinos and Japanese despite their animosity. The old piano was a living testament of how Balaoanians survived the vicious World War II.